Administrative Computer Services
Project Tracking System
Objectives & Deliverables
Administrative Computer Services
Northeastern University
November 18, 1996
---
Introduction
This document describes the objectives, deliverables and phases for the development and deployment of the new Project Tracking system - PTRACK. This system is intended to replace the aging system currently used. PTRACK will provide easy access to project information to ACS personnel as well as to authorized end users, as an intranet and LAN based application.

PTRACK will provide a web browser interface for some of its functions and will build upon the infrastructure provided by ACS's configuration management system - CCC/Harvest. The next two sections provide an overview of the general features of PTRACK and technologies used.
Objectives, Deliverables and Technology
Objectives
The problem that PTRACK will solve is that of tracking all necessary information related to software projects in order to easily provide progress reporting and accountability of the software development process at ACS. An objective of PTRACK is to provide an easy to use interface for end users, ACS developers and managers . This new system will improve the existing system by :
Automatic update and flow of project information
Providing customized status reports
Utilizing a two-tier Client/Server architecture to provide efficient access to data
Employing a robust relational database server to manage all data
Using standard graphical user interfaces for all user platforms
Providing standard on-line help and system documentation to facilitate user training and reduce maintenance costs
Deliverables
PTRACK will be developed in-house by ACS and will include the following deliverables:
Harvest PTRACK Template Model and Model documentation
Custom Harvest Forms and reports
Java applet to access and update PTRACK information
Vines LAN based Harvest access for ACS personnel.
PTRACK users manual and on-line help
PTRACK system documentation including a System Requirement Analysis (SRS), System Functional Specifications (SFS), System Detailed Design (DSD), System Test Plan (STP), and source code documentation.
Technology
The Java language will be used to develop the web access component of PTRACK, taking advantage of Java's built-in support for intranet application development and security features. Java's JDBC database connectivity will be used to provide data access to the data repository. The ORACLE 7.2.x RDBMS will be used as the repository for PTRACK data since it already contains a robust project tracking data model associated with CCC/Harvest. PTRACK will use the CCC/Harvest Workflow engine and process models to automate tracking, data updates, and routing of tasks. PTRACK will take advantage of the Harvest Software Integration Kit (SIK) and Forms Customization Package (FCP) to customize CCC/Harvest forms, and workflow routing will utilize the existing email systems. The Vines LAN will be used to house the Windows 3.1/NT client interfaces of PTRACK for ACS personnel. The Vines based web browser (Netscape 2.x or later) will be used to access the web interface.
Project Phases
the PTRACK project development will consist of the typical software Information Engineering life cycle steps, including an early prototyping step and specific phases for tasks associated with LAN based development and hosting versus web based development and hosting. The following flow chart illustrates global project tasks.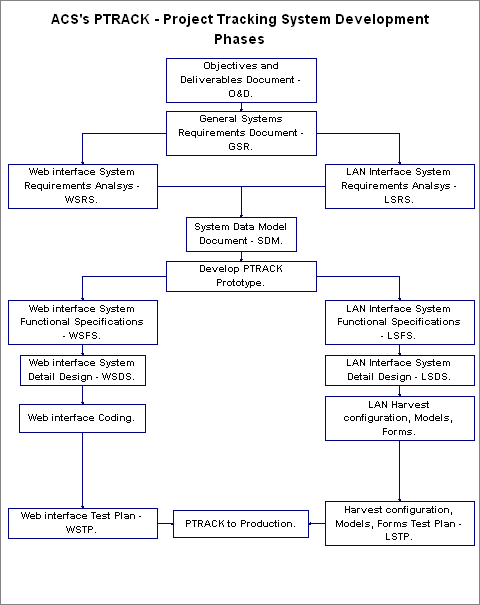 The following documents will describe each of the project phases:
PTRACK002 - PTRACK General System Requirements
PTRACK003 - PTRACK Web and ACS user requirements
PTRACK004 - PTRACK data model
PTRACK005 - PTRACK prototype description and user guide
PTRACK006 - PTRACK Functional Specifications
PTRACK007 - PTRACK Detail Design
PTRACK008 - PTRACK Source Code and Configuration
PTRACK009 - PTRACK User manual and on-line documentation
PTRACK010 - PTRACK Test Cases and Implementation Plan